Ashley on far right
You were the darling girl in blond locks I instantly fell in love with when I started dating your uncle. You were the insightful one who had a remarkable wit for such a young age. Moments I got to play with you and your sister were precious, especially the afternoon you spent with me while everyone else was at the temple.
I saw your sweet looks of awe and wonder when I appeared in my wedding dress at the reception. You got to run around with all the cousins that evening eating salmon and drinking lemonade to your heart's content. I had dreams of one day watching you in the same scenario. Dreams.
Greg stayed for hours with you at Colossus, patiently waiting for you to muster your courage. He adored you too. You held a special spot with him.
Every 24th of July at the McKinnon cabin was a highlight because you were one of the few who stayed up late playing Scum around lantern light. You made me laugh. You were so clever. We talked theology, Hoarders, addictions and mental issues.
We got a few hints before the first crash, which was just the beginning of our minuscule understanding into your suffering. I didn't comprehend any of it. I was angry. So angry. You see I've never had much empathy for this kind of thing. And my ignorance often brings out my grit-filled, buck-up-and-push-forward, shoulder-to-the-metal Welsh blood. Why couldn't you see how much we loved you? Why couldn't that be enough? Why couldn't you...overcome?
You'll have to forgive me too, Ashley. Because I'm still dealing with my anger. I'm angry and I'm heartbroken.
Do you want to know what has affected me most? In the days following your death, your cousins - your many, wonderful, amazing cousins who grew up with you and loved you - dropped everything they were doing, drove long distances and came to comfort your siblings. Don't ever believe you were alone or inadequate. You were everything to us.
I have not the slightest doubt I will see you again. It doesn't stop the ache inside me, but it lessens the intensity. We'll get to visit again about everything you're feeling and what you've discovered about yourself since we've been apart. Please have the lantern ready. I'll bring the deck of cards and the popcorn. We'll laugh together and try to understand one another in a new light.
"In gospel grammar, death is not an exclamation point, merely a comma." - Neal A. Maxwell.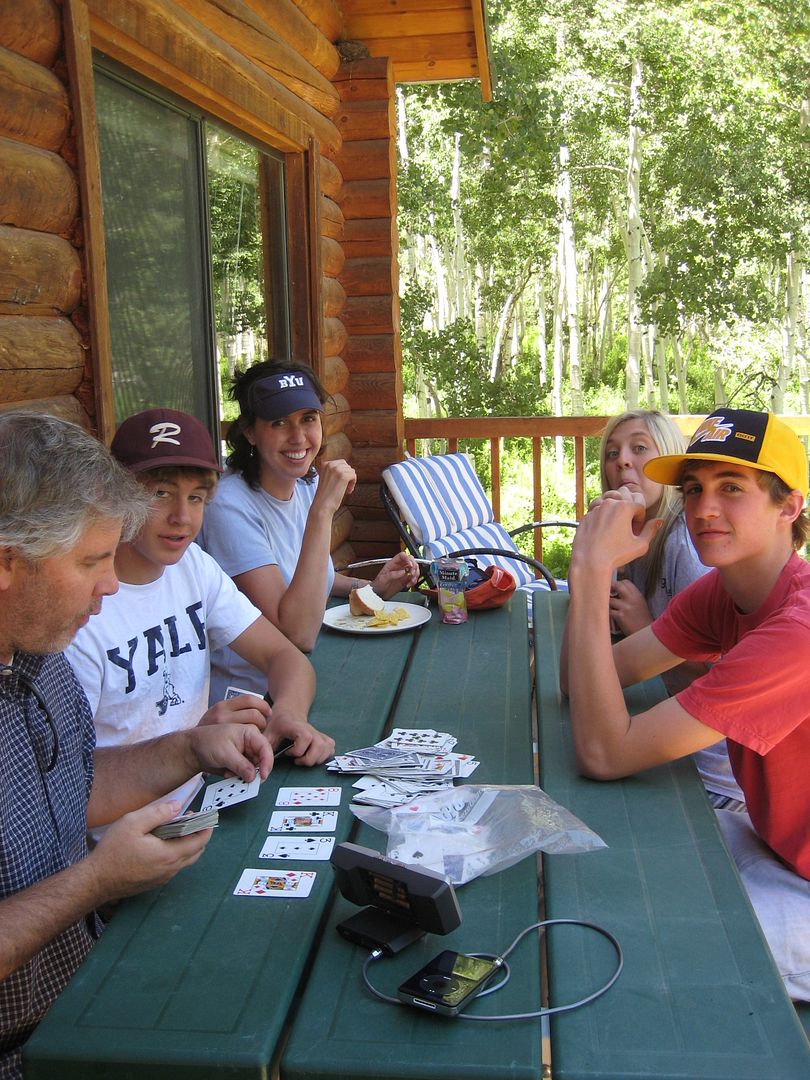 Playing cards at the McKinnon cabin. Ashley across from me.
Ashley, Bubbs and Makena