Let's go back to the beginning.
(Because the history is dear to me)
When I was in 8th grade, my bestest cousin came to visit for the summer. She brought with her a cassette tape and oodles of acclaim over this new musical she'd just seen. "Rae, you've got to listen to this!!"
This was followed by thousands of questions, discussions, theories, obsessions. Countless times getting lost in the book - especially the non-edited version. Every line is so amazing that it must be digested and savored slowly.
Finally the time came while my family was living in London - we saw Les Mis!! And strangely, I was horribly bothered by the whole thing. Eponine was played by the understudy and so many lines were reversed. I realized I would have to adjust my expectations with different interpretations of song, dialogue, etc. Every director and cast would bring a new tone. I wasn't quite ready for that. But in the end, the disruption was good - it kept it fascinating to me.
I don't know how many times I've seen it since, but every performance produces this cathartic experience for me. This drive for more compassion. And Bishop Myriel absorbs me - a man who's on stage for only the first 5 minutes - 10 max. He's the crux of the whole foundation - the author of Jean Valjean's path in following Christ. When the chorus sings at the end, "Will you join in our crusade, who will be strong and stand with me?" I literally want to rush the stage.
Anyway - getting back to the present.
On May 31st, I finally got to see Les Miserables with my bestest cousin who long ago introduced me to Mr. Hugo. It was long overdue and a bit emotional. It was me with my two oldest. And now that they've seen and heard, there is no escape. It's sunk into their souls and will never leave.
PS - I didn't realize until watching Les Mis with my children how I would react to the few moments of profanity. So it was with great mortification during the Thenardiers piece that I found myself squeaking OUT LOUD over a well-timed curse in the rare hopes my boys wouldn't hear it. This is completley instinctual. I do this all the time if I know someone is going to swear. Sadly, everyone around us - quite possibly even the actors - also heard me instead.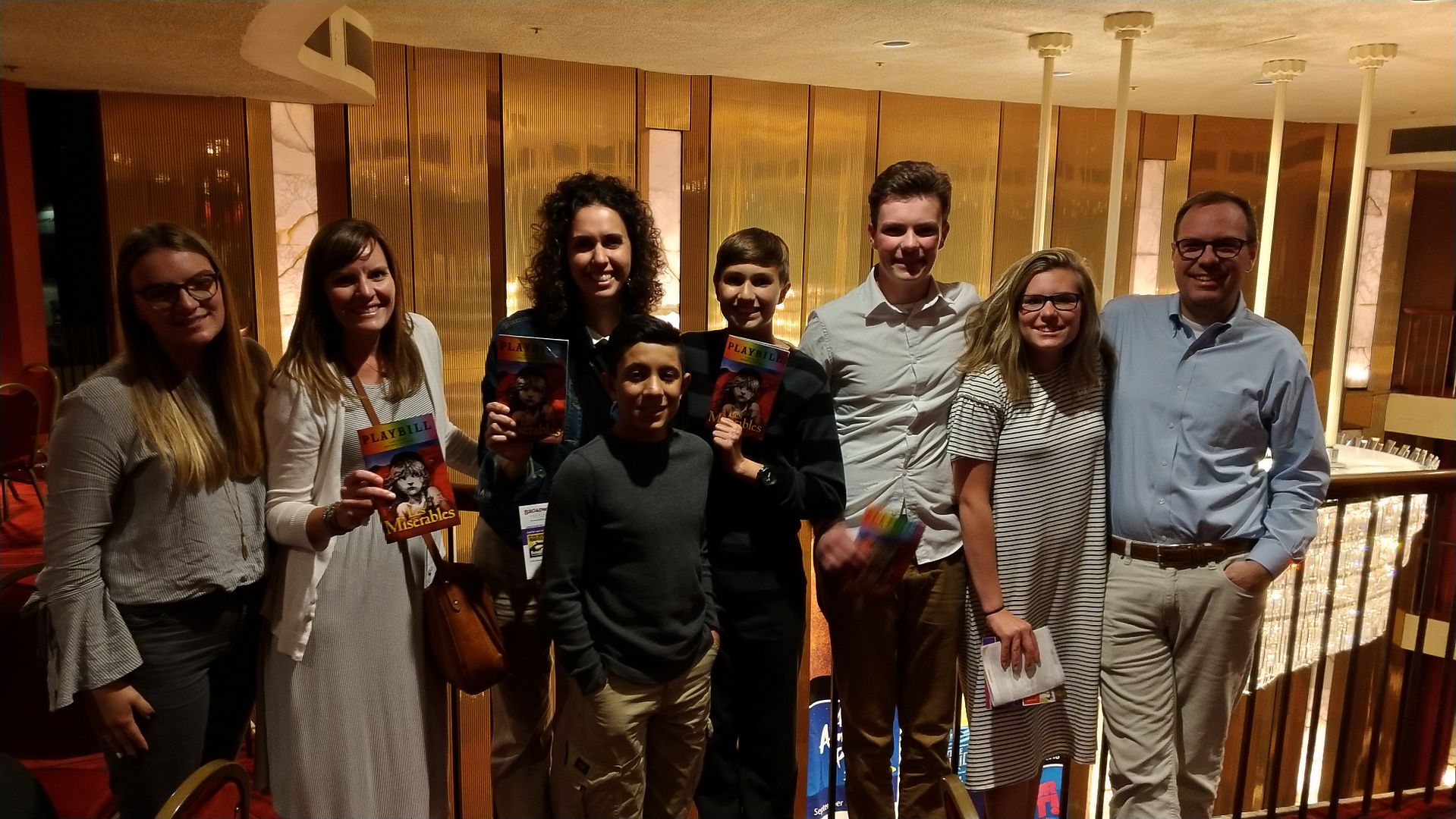 "The most beautiful of altars, is the soul of an unhappy creature consoled and thanking God."
"The pupil dilates in darkness and in the end finds light, just as the soul dilates in misfortune and in the end finds God."
"Even the darkest night will end and the sun will rise."